Pet Care in Trumbull and Pet Diagnostics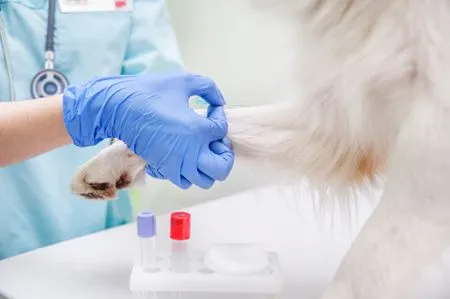 There are a variety of reasons why your pet might be sick. The moment you notice a change in their health, it's important to take them to visit a veterinarian so they can help diagnose your pet. The sooner your vet can provide an accurate diagnosis, the better your pet's chances are of making a full recovery.
If your pet has recently been ill, schedule a visit with one of our trained veterinarians at Trumbull Animal Hospital. Our staff in Trumbull, CT, will help provide the best diagnostic tools and workups to find the root cause of your pet's health issues. From pet blood work, to x-rays and stool samples, we have you and your pet covered at Trumbull Animal Hospital.
How Does Pet Diagnostics Work?
Some illnesses with your pet can be very apparent. For instance, if your pet is limping, it's very easy to see the cause if they have a damaged foot. But what if you can't directly see what's causing your pet's illness?
How will you determine the extent of their disease or injury? This is where pet diagnostics come into play.
Veterinarians will use a variety of diagnostic tools to find the root cause of their illness and prescribe the best treatment plan. This includes:
Pet bloodwork
X-Rays
Ultrasounds
Stool samples
Physical exams
How Does Pet Diagnostics Help?
Unlike humans, your pet can't communicate with you or your vet through simple words. Because of this, it's important to gather all information necessary to determine the cause of their illness.
Ultrasounds and x-rays help them look inside of your pet's body. This can help them determine if they're pregnant, have internal injuries, internal bleeding, or other issues we can't physically see.
Stool samples will help your vet determine if there is any virus, bacterial infection, or even parasites harming your pet.
Pet bloodwork is a crucial component of pet diagnostics. Bloodwork will be able to show your veterinarian if there are any abnormalities in your pet's white blood cell count, red blood cell count, platelets, lymphocytes, or other issues. These blood tests can help your vet determine if there are any major illnesses in your pet.
How a Vet in Trumbull Can Help
Your vet will use the results of the diagnostics to make an appropriate treatment plan for your pet. Only a trained veterinarian will be able to understand what specific bloodwork and other diagnostic tests entail.
Visit Trumbull Animal Hospital Today
At Trumbull Animal Hospital, we make it our mission to accurately diagnose, treat, and help your pet heal. Call us today and visit our clinic in Trumbull, CT, at (203) 268-6231.